'A'ohe pu'u ki'eki'e ke ho'a'o 'ia e pi' – Hawaiian Proverb
"No cliff is so tall that it cannot be scaled."
If 2020 was a cliff, it would resemble those on the north shore of Molokai — intimidating, formidable, surreal.
Looking back on the past year, we are proud to share how, through the collective efforts of everyone at Coldwell Banker Island Properties, we were able to carefully navigate these unprecedented times and highly unpredictable challenges to stand tall as we head into the New Year.
With 25 years in the Hawaii real estate market, it is our distinct ability to pivot and adjust quickly that allows us to find ways to inspire personal and professional growth. It is in our unified actions that our work leaves a lasting impact on the communities and clients we serve.

When reflecting on the year, CBIP Principal Broker Tom Muldoon shared, "After facing many challenges on all levels, it's unbelievable how well the year has turned out. I couldn't be more impressed by what our agents and organization have accomplished."
So, as we draw near to the end of a year that was anything but business as usual, we'd like to share the transformative moments of 2020 and highlight some of our company achievements and good news.
Strength in Numbers
When others in the industry were pulling back, we charged forward by making several acquisitions on Maui and Hawaii Island. Our company presence and market share grew substantially across the islands with the additions of many exceptional REALTORS® and team members who joined our 'ohana.

When speaking about the company's growth, Vice President Bob Cella highlighted, "In total, we welcomed 155 new agents statewide and opened three new flagship offices in Poipu, Kihei, and Kapalua. This is a great testament to the many benefits agents receive at CBIP from training and mentorship by industry veterans to tools focused around agent productivity."
"We took an approach to go out and make moves when others retreated," Muldoon said. "We decided that we wanted to come out ahead instead of being held back."
And so, we adapted. We responded to the ever-changing landscape around us by embracing new safety measures to make ourselves available to our clients and our community.
Shift to Digital
Agents overcame COVID challenges by assisting clients in a digital space and hosting virtual open houses, allowing our buyers and sellers to find comfort while transitioning into a new home during these uncertain times.
As part of our increased service offering, our agents embraced virtual tours and breathtaking videos of new listings to showcase their clients' properties. ­When showing homes in person, we maintain the strictest of protocols to ensure the health and safety of everyone.
Our agents increased their service offering by providing virtual tours and sharing stunning videos of new listings to showcase their clients' properties on a global scale. ­When showing homes in person, we maintain the strictest of protocols to ensure the health and safety of everyone.
"We responded to COVID challenges as a team," said President Steve Houle. "Our agents and staff helped us to grow in the face of adversity."

Community Support and Outreach
While the housing market remained strong in 2020, we recognized that our local community was in dire need of assistance, so we stepped up to the front line to lend a hand.
In speaking of our efforts Vice President of Operations Maile Masada shared, "Every month this year we have been involved with a different charitable event or cause. It has been incredible to see first-hand how much our team gave in volunteer hours."
On Maui, highlights from these initiatives included raising over $106,000 for the Maui Youth Rodeo Organization through the non-profit's annual rodeo and concert dinner, fulfilling every child's gift request (and more!) through the Toys for Tots drive coordinated by agents Melissa Smith and Elizabeth Wood, and participating in the Makawao strong food drive.
Kauai and Hawaii Island community outreach highlights included collecting thousands of pounds of food for Hawaii Island's food bank, donating athletic equipment for Friends of the Children's Justice Center of East Hawaii, and contributing holidays gifts for Queen Liliokalani Trust Children's Social Work Program.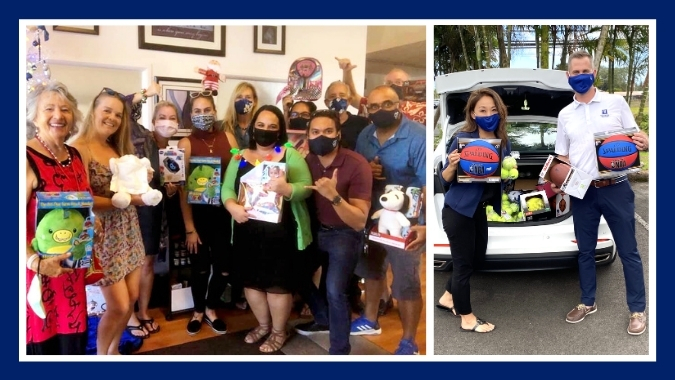 As a result, our CBIP team not only grew in size, but in strength of friendship, local partnerships, and as a unified 'ohana across the islands.
"We have an extraordinary team; it is remarkable to work with agents, administrative staff a leadership team of such high caliber, exhibiting high levels of professionalism and productivity while being so kind and humble," said Hawaii Island General Manager Rebecca Morton.
Looking Ahead
December 15, 2020, marked the 25th anniversary of Coldwell Banker Island Properties. We look forward to celebrating this milestone in the year to come and we're happy to be ending the year on a high note.
Thank you for learning with us, cheers to 2021!